EuroPass provides 360° expertise and operational services for Chinese customers.
EuroPass
provides the social media management services and the mobile payment solutions, which allows you to integrate all the information of your products and services and develop a global digital communication approach.
If the years 2016 and 2018 have taught us something about the individual Chinese clientele, it is that it is particularly resilient. In fact, whatever the events, the attendance of individual Chinese customers continued to grow. The Chinese individual market is therefore not only considerable, growing continuously, but also sustainable.
Like all tourists, Chinese FITs book their hotel before departure (a prerequisite for obtaining a visa) and use to make the Chinese platforms Ctrip, Alitrip, but also the Chinese versions of Western platforms such as Booking or Expedia .
Thus, for hoteliers the added value of EuroPass is first of all to enable them to improve the experience of their Chinese customers.
The WeChat accounts and mini-programs that we create for hoteliers present all of the hotel's services, surrounding points of interest, potential excursions and include a Chinese hotline. Thus, we allow hoteliers to improve the level of service offered to their Chinese customers without having to recruit Sinophone staff or to caption all the hotel's signs in Chinese.
For restaurateurs, we add to the improvement of the customer experience, the capture of qualified flow. Indeed, we make them visible to individual Chinese tourists present around their establishment. Restaurateurs who wish can also offer "coupons" or specific offers dedicated to the Chinese tourist clientele.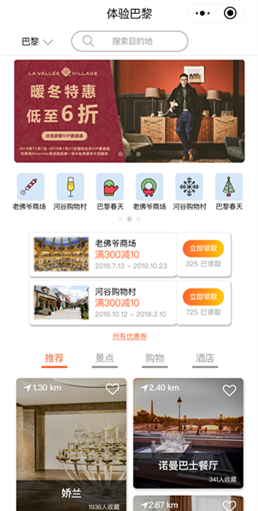 Accounts created
from 2016

Community of
followers from 2016


Orders Online and Offline from 2016