EuroPass provides 360° expertise and operational services for Chinese customers.
EuroPass
provides the social media management services and the mobile payment solutions, which allows you to integrate all the information of your products and services and develop a global digital communication approach.
The rise of the Chinese tourism market offers new development opportunities for tourism professionals wishing to capture the individual Chinese clientele. No longer confined to visiting emblematic places, Chinese tourists are starting more and more adventures, and now want to discover the "nuggets" nestled in the heart of the destinations they visit.
For this clientele, the experiential prism has now taken precedence over notoriety. A selfie in front of the Eiffel Tower does not generate as much prestige for its author, and envy for its community of followers, a horse ride in the park of the Palace of Versailles, a cooking class with a French Chef , or a kayak trip under the Gare bridge.
In parallel, the Chinese clientele continues to face real cultural and practical barriers (language, tools …) to freely access the richness of the offer of tourist attractions outside of China.
For this EuroPass accompanies all tourism professionals in their apprehension of the Chinese market and answers the set of questions you can ask yourself:
Our feedback from hundreds of collaborations with professionals of tourism and entertainment (tourist offices, tourist attractions, museums …) from around the world allows us to advise you best according to your offer, your ambition and your abilities.
Tourism consumption in China is changing considerably from year to year, and has been totally reinvented in 10 years. In this market more than any other, adaptability is the key to success. Our teams, 100% dedicated to the Chinese tourism market anticipate the evolution of practices to allow you to seize the best opportunities.
And while it is often difficult for a tourism professional to go it alone in this market, EuroPass has always favored joint approaches between several players in tourism, transport, hotels and retail in the same destination in order to to maximize the impact of the promotion actions put in place, to make them more attractive for the Chinese tourist and of course to reduce their costs. This approach is one of the bases on which we have supported the development of our "flagship product": the WeChat European Experience.
On the same model, EuroPass has set up a Chinese hotline service, via WeChat, to guide Chinese customers who wish to have more information about the products and services of our partners.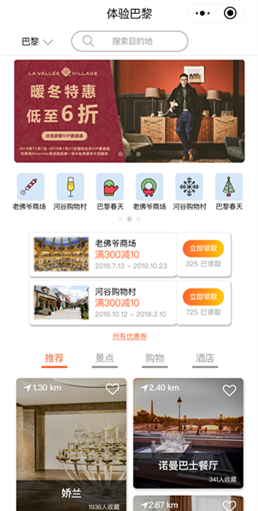 Detailed analyse services
Finally, for each step implemented, EuroPass ensures that "Key Performence Indocators" are defined upstream, piloted during the operation, and give rise to a detailed analysis following the operation to guarantee the implementation. in place of a virtuous circle of continuous improvement of the performance.

Accounts created
from 2016

Community of
followers from 2016


Orders Online and Offline from 2016