This is a solution for you if you're interested in the Chinese market & WeChat ticketing business. Companies all over are interested in creating a presence in China. WeChat Official Account is an ideal tool for Business. WeChat is one of the most multi-functional social apps.
This post is designed to help you with your research with the following question:
CONCEPT
TICKETING PROCESS
FOR PRODUCTS, ONLINE AND OFFLINE INTEGRATION
FOR CUSTOMER, MAX THE VALUE OF EVERY CUSTOMER
FOR SERVICE, DATA MINING FOR BETTER EXPERIENCE
WHY USE WECHAT FOR BUSINESS?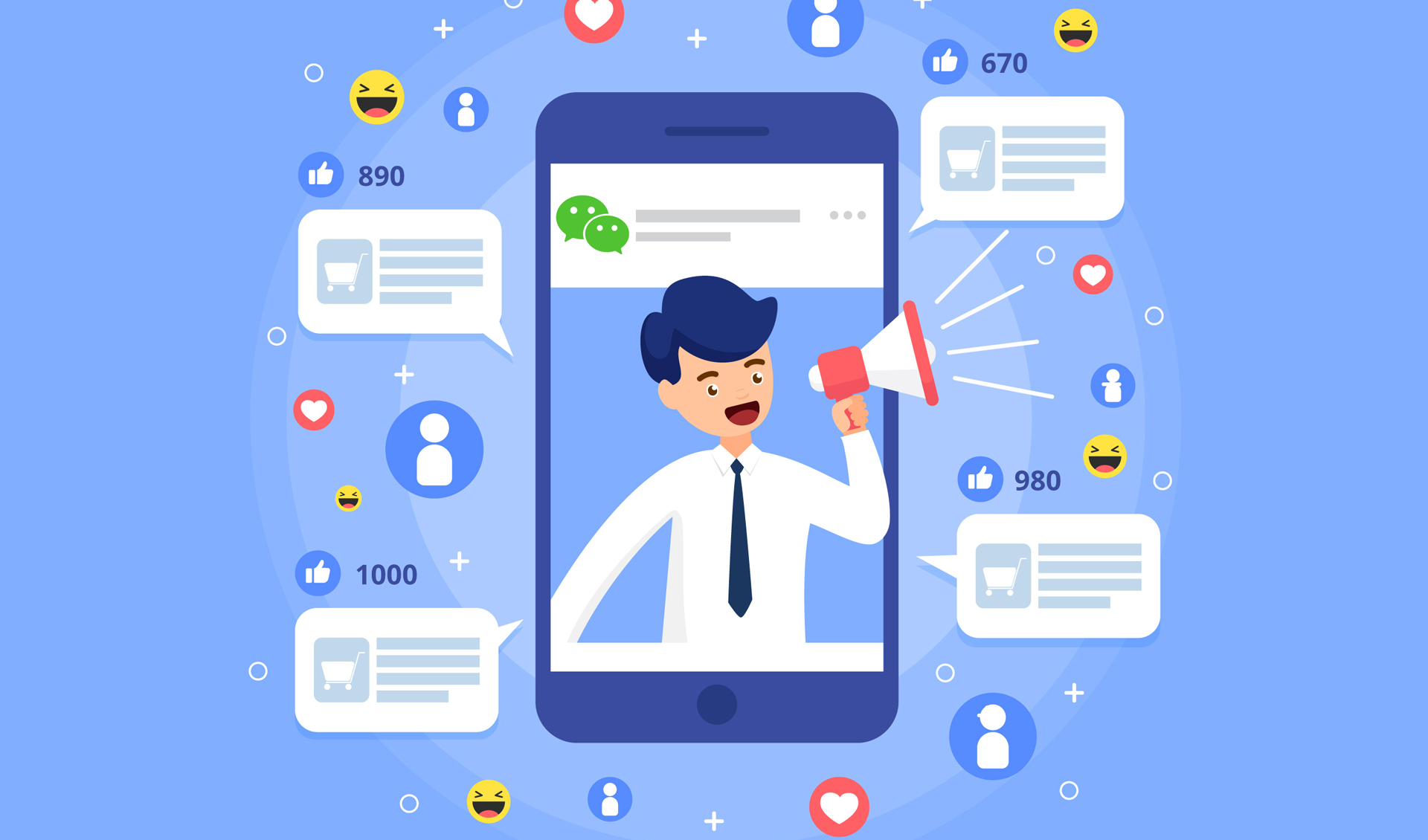 WeChat is Chinese Facebook but for everything. This is an ideal channel for western businesses who are looking to target the Chinese market, to support their customers in China or the needs of Chinese customers abroad. It can highlight the brand to a diverse volume of people looking to buy, travel or study abroad, to name a few.
WeChat is the most commonly used app in China with 1.12 billion Monthly Active Users (2019 Q1 Tencent). That means you'll get access to about 81% of China's 1.38 Billion people just through one app, which they use for 70 minutes on average every day.
In addition, with numerous unique functions and platforms ranging from payment to social media, from services to shopping and more, it is equivalent to multiple Google Play or App Store's apps, but all merged into one.
However, WeChat Business isn't just about targeting Chinese users in China. It's also about massive Chinese diaspora around the world. More and more Chinese people are using WeChat to pay around the world. Alipay has landed in 38 countries and regions abroad, accessing hundreds of thousands of local businesses and attractions (Xinhua net).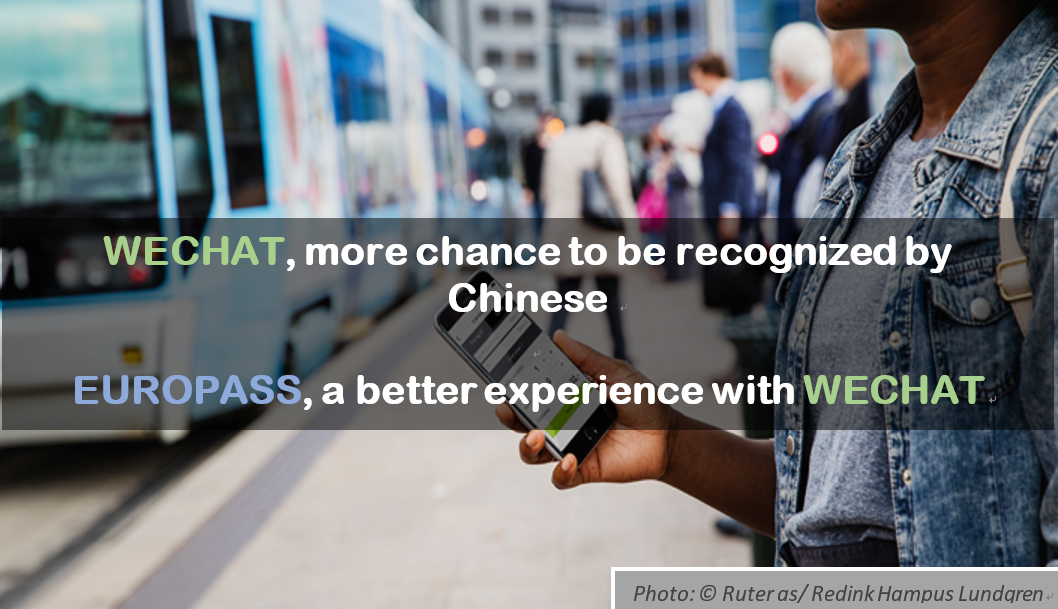 WHAT IS WECHAT SMART TICKETING ?
Smart ticketing is not a new concept. However, with the development of IOT technology, such as contactless bank cards and smart apps, e-ticketing has now reached a new milestone. Now offer similar services, WECHAT SMART TICKETING(WST) making traffic easier to access than ever.
It has become an easy method of payment thanks to the evolution of smartphones. These offer more than just easy access with the ability to look up real-time information, allowing multimodality and streamlining the transport experience.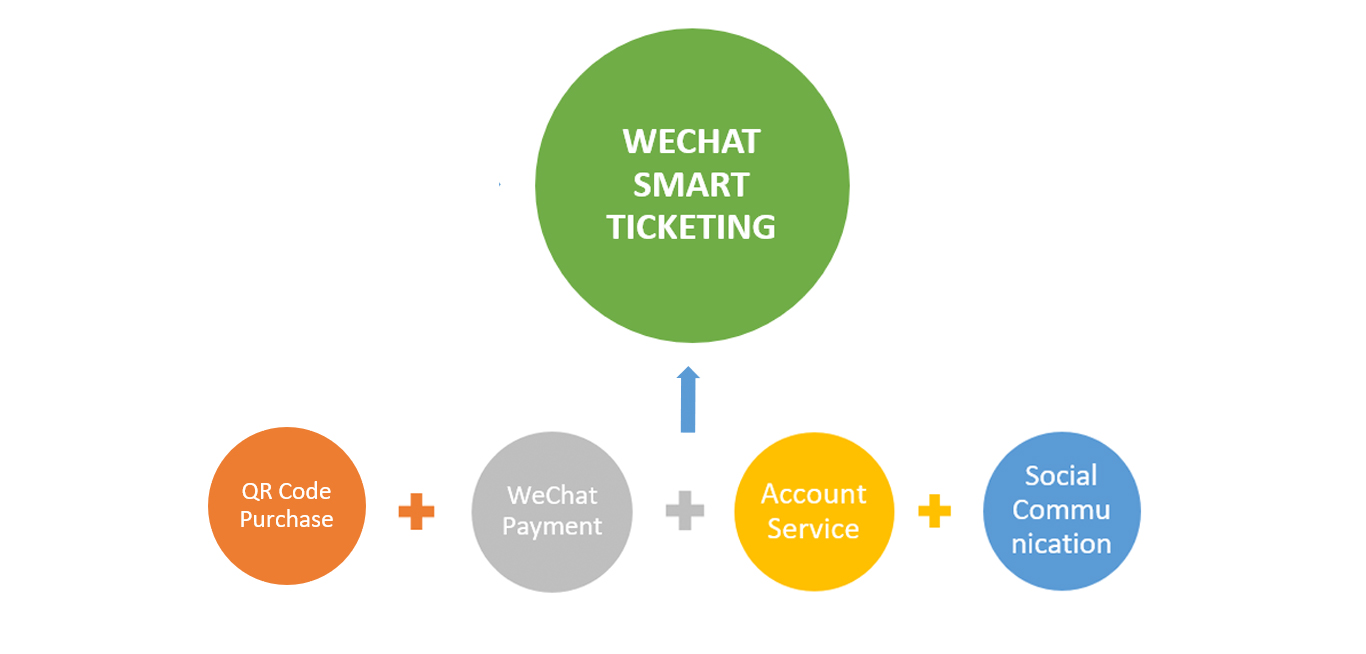 WECHAT SMART TICKETING PROCESS
WECHAT SMART TICKETING (WST) based on the WeChat public platform and WeChat payment, by using the mini-program and related functions. WST establishes connections among the before-sales, after-sales, before-use,  and after-use. Then, according to the specific needs of your company to provide supporting solutions to realize smart payment and related issues.
ADVANTAGE FOR YOU AND YOUR CUSTOMER
In fact, WECHAT SMART TICKETING is the foundation for achieving New Retail. It can be achieved by online and offline integration. In the words of Jack Ma "New Retail is making the distinction between physical and virtual commerce obsolete.". The new retail is business restructuring: the process of reconstructing traditional business elements such as "people, products, fields (scene)" using the Internet and big data, WeChat smart ticketing help ticketing business enter in new retail, including refactoring production processes, rebuild relationship between business and consumers, and refactoring shopping experiences.
The advantage of WST is the powerful product sales ability, which relies on the Real-time synchronization for product sales, inventory function, SKU shelf and so on. Whether the innovation of traditional sales channels or the development of new retail, WST can help them to achieve real-time control of distribution, marketing campaigns, and inventory. As a result, it makes the sales online and offline working together.
WST enables a high degree of cooperation between online retails and offline retails leads to products more valuable. The social content really highlights the characteristics of product selling. The online and offline simultaneous sales optimize time and logistics costs, enabling customers to obtain a better consumer experience.
WST support the mutual real-time communication among all the customers. It can transact data, connect information and services in one place to promote the sharing no matter online or offline.
With this function, it can rebuild the relationship between business and consumers, Creating and stimulating customer engagement behavior to keep the loyalty degree to get the lifetime value of every customer. As a result, enhance the ROI result.
WST cover all the channels of business with data. With the data monitoring and mining, WST helps business to short the operation time, enhance the operation experience and control all the process. Also, meeting the individual needs of every event.